#SBList: Recommended books for your Christmas #TBR: Fantasy// Sci-fi//Paranormal
15:44
Isn't it weird how this year just flew by so quickly? It feels like only just yesterday i was screaming happy new year to any and everyone who i encountered both online and offline. To be honest, am not very sure where this year ran to but i can tell you it has been a whirlwind of awesomeness. I'd rather not bore you with unnecessary stories so let me just jump right into it.
NOTE: This list is in no way exhaustible, if you feel like i should add more books, be sure to drop a comment about the book and i will update the list.
P.S: If you shop with my affiliate link on book depository i get a small percentage at no extra cost to you. I use this small percentage to keep the blog up and running, spread the Christmas love and shop with me link... Thank you
1O. Nemesis by Anna Banks
BOOK TITLE:
Nemesis (Nemesis book #1)
AUTHOR:
Anna Banks
GENRE:
YA, Fantasy, Romance,
PAGES:
368
PUBLISHER:
Feiwel & Friends
RELEASE:
October 2016
RATINGS:
4 stars
BUY:
Book depository
//
Amazon
//
Synopsis:
Princess Sepora of Serubel is the last Forger in all the five kingdoms. The spectorium she creates provides energy for all, but now her father has found a way to weaponize it, and his intentions to incite war force her to flee his grasp. She escapes across enemy lines into the kingdom of Theoria, but her plans to hide are thwarted when she is captured and placed in the young king's servitude.
Tarik has just taken over rulership of Theoria, and must now face a new plague sweeping through his kingdom and killing his citizens. The last thing he needs is a troublesome servant vying for his attention. But Mistress Sepora will not be ignored. When the two finally meet face-to-face, they form an unlikely bond that complicates life in ways neither of them could have imagined.
Sepora's gift may be able to save Tarik's kingdom. But should she risk exposing herself and her growing feelings for her nemesis?
09. Gemina (The illuminae files #2)
BOOK TITLE: Gemina (The illuninae files #2)

AUTHOR: Amie Kaufman, Jay Kristoff

GENRE: YA, Sci-fi, Romance,

PAGES: 608

PUBLISHER:

Knopf Books for Young Readers

RELEASE: October 2016

RATINGS: 5 stars




Synopsis:




Moving to a space station at the edge of the galaxy was always going to be the death of Hanna's social life. Nobody said it might actually get her killed.



The sci-fi saga that began with the breakout bestseller Illuminaecontinues on board the Jump Station Heimdall, where two new characters will confront the next wave of the BeiTech assault.

Hanna is the station captain's pampered daughter; Nik the reluctant member of a notorious crime family. But while the pair are struggling with the realities of life aboard the galaxy's most boring space station, little do they know that Kady Grant and the Hypatia are headed right toward Heimdall, carrying news of the Kerenza invasion.

When an elite BeiTech strike team invades the station, Hanna and Nik are thrown together to defend their home. But alien predators are picking off the station residents one by one, and a malfunction in the station's wormhole means the space-time continuum might be ripped in two before dinner. Soon Hanna and Nik aren't just fighting for their own survival; the fate of everyone on the Hypatia—and possibly the known universe—is in their hands.

But relax. They've totally got this. They hope.

Once again told through a compelling dossier of emails, IMs, classified files, transcripts, and schematics, Gemina raises the stakes of the Illuminae Files, hurling readers into an enthralling new story that will leave them breathless.
08. Glitter by Aprilynne Pike (Glitter duology #1)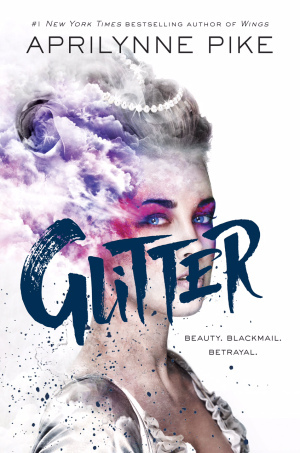 BOOK TITLE: Glitter (Glitter duology #1)
AUTHOR: Aptilynne Pike
GENRE: YA, Fantasy, Historical Fition,
PAGES: 384
PUBLISHER:
Random House Books for Young Readers
RELEASE: October 2016
RATINGS: 4 stars
Synopsis:
Outside the palace of Versailles, it's modern day. Inside, the people dress, eat, and act like it's the eighteenth century—with the added bonus of technology to make court life lavish, privileged, and frivolous. The palace has every indulgence, but for one pretty young thing, it's about to become a very beautiful prison.
When Danica witnesses an act of murder by the young king, her mother makes a cruel power play . . . blackmailing the king into making Dani his queen. When she turns eighteen, Dani will marry the most ruthless and dangerous man of the court. She has six months to escape her terrifying destiny. Six months to raise enough money to disappear into the real world beyond the palace gates.
Her ticket out? Glitter. A drug so powerful that a tiny pinch mixed into a pot of rouge or lip gloss can make the wearer hopelessly addicted. Addicted to a drug Dani can sell for more money than she ever dreamed.
But in Versailles, secrets are impossible to keep. And the most dangerous secret—falling for a drug dealer outside the palace walls—is one risk she has to take.
07. Three Dark Crowns by Cassandra Blake (Three Dark Crowns #1)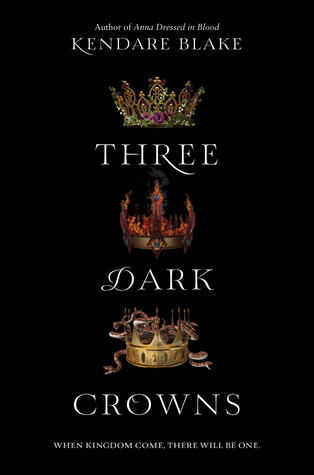 BOOK TITLE: Three dark crowns (Three dark crowns #1)
AUTHOR: Cassandra Blake
GENRE: YA, Fantasy
PAGES: 416
PUBLISHER:
Harper Teen
RELEASE: September 2016
RATINGS: 4 stars
Synopsis:
Every generation on the island of Fennbirn, a set of triplets is born: three queens, all equal heirs to the crown and each possessor of a coveted magic. Mirabella is a fierce elemental, able to spark hungry flames or vicious storms at the snap of her fingers. Katharine is a poisoner, one who can ingest the deadliest poisons without so much as a stomachache. Arsinoe, a naturalist, is said to have the ability to bloom the reddest rose and control the fiercest of lions.

But becoming the Queen Crowned isn't solely a matter of royal birth. Each sister has to fight for it. And it's not just a game of win or lose…it's life or death. The night the sisters turn sixteen, the battle begins. The last queen standing gets the crown.

If only it was that simple. Katharine is unable to tolerate the weakest poison, and Arsinoe, no matter how hard she tries, can't make even a weed grow. The two queens have been shamefully faking their powers, taking care to keep each other, the island, and their powerful sister Mirabella none the wiser. But with alliances being formed, betrayals taking shape, and ruthless revenge haunting the queens' every move, one thing is certain: the last queen standing might not be the strongest…but she may be the darkest.
06. The Midnight Star by Marie Lu (The young elites #3)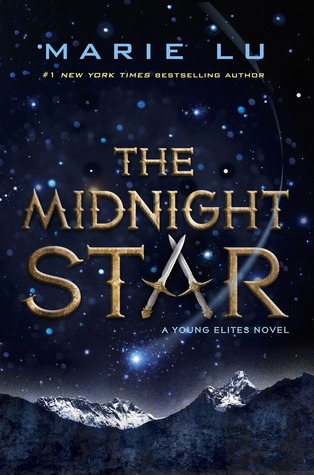 BOOK TITLE: The midnight star (the young elites #3)
AUTHOR: Marie Lu
GENRE: YA, Fantasy
PAGES: 316
PUBLISHER:
G.P. Putnam's Sons Books for Young Readers
RELEASE: October 2016
RATINGS: 4 stars
Synopsis:
There was once a time when darkness shrouded the world, and the darkness had a queen.

Adelina Amouteru is done suffering. She's turned her back on those who have betrayed her and achieved the ultimate revenge: victory. Her reign as the White Wolf has been a triumphant one, but with each conquest her cruelty only grows. The darkness within her has begun to spiral out of control, threatening to destroy all she's gained.

When a new danger appears, Adelina's forced to revisit old wounds, putting not only herself at risk, but every Elite. In order to preserve her empire, Adelina and her Roses must join the Daggers on a perilous quest—though this uneasy alliance may prove to be the real danger.
05. Heartless by Merrisa Meyer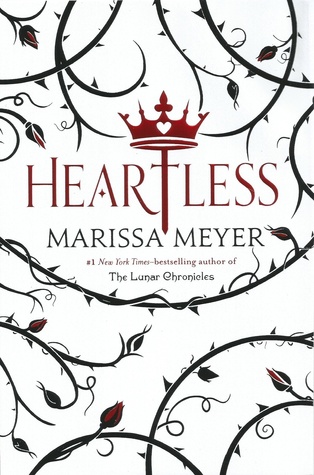 BOOK TITLE: The midnight star (the young elites #3)
GENRE: YA, Fantasy, Fairy tale
PUBLISHER:
Feiwel & Friend
RATINGS: 5 stars
Synopsis:
Long before she was the terror of Wonderland, she was just a girl who wanted to fall in love. Catherine may be one of the most desired girls in Wonderland, and a favorite of the unmarried King of Hearts, but her interests lie elsewhere. A talented baker, all she wants is to open a shop with her best friend. But according to her mother, such a goal is unthinkable for the young woman who could be the next queen.
Then Cath meets Jest, the handsome and mysterious court joker. For the first time, she feels the pull of true attraction. At the risk of offending the king and infuriating her parents, she and Jest enter into an intense, secret courtship. Cath is determined to define her own destiny and fall in love on her terms. But in a land thriving with magic, madness, and monsters, fate has other plans.
In her first stand-alone teen novel, the New York Times-bestselling author dazzles us with a prequel to Alice's Adventures in Wonderland.
04.
Scythe
(Arc of a Scythe #1)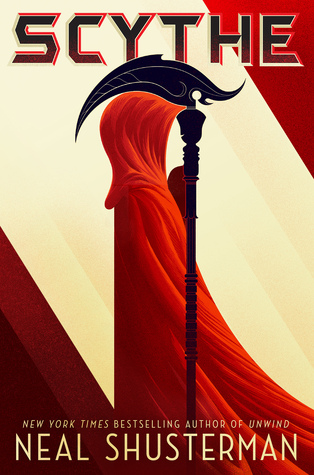 BOOK TITLE: Scythe (Arc of a Scythe #1)
GENRE: YA, Sci-fi, Dystopia
PUBLISHER:
Simon & Schuster Books for Young Readers
RATINGS: 3 stars
Synopsis:
In a world where disease has been eliminated, the only way to die is to be randomly killed ("gleaned") by professional reapers ("scythes"). Citra and Rowan are teenagers who have been selected to be scythe's apprentices, and—despite wanting nothing to do with the vocation—they must learn the art of killing and come to understand the necessity of what they do.

Only one of them will be chosen as a scythe's apprentice. And when it becomes clear that the winning apprentice's first task will be to glean the loser, Citra and Rowan are pitted against one another in a fight for their lives.
03. Crocked kingdom (six of crows #2) by Leigh Bardugo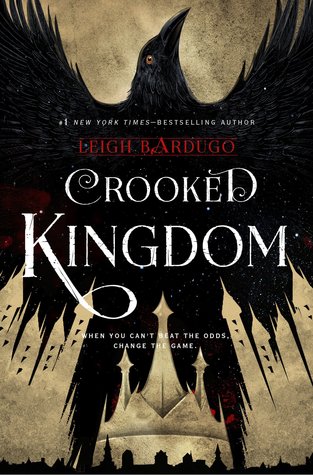 BOOK TITLE: Crocked kingdom (six of crows #2)
GENRE: YA, Sci-fi, Dystopia
PUBLISHER:
Orion Children's Books
RELEASE: September 2016
RATINGS: 5 stars
Kaz Brekker and his crew have just pulled off a heist so daring even they didn't think they'd survive. But instead of divvying up a fat reward, they're right back to fighting for their lives. Double-crossed and left crippled by the kidnapping of a valuable team member, the crew is low on resources, allies, and hope. As powerful forces from around the world descend on Ketterdam to root out the secrets of the dangerous drug known as jurda parem, old rivals and new enemies emerge to challenge Kaz's cunning and test the team's fragile loyalties. A war will be waged on the city's dark and twisting streets―a battle for revenge and redemption that will decide the fate of magic in the Grisha world.
02. Replica
BOOK TITLE: Replica
GENRE: YA, Sci-fi, Dystopia,
PUBLISHER:
Harper Collins
RELEASE: October 2016
RATINGS: 4 stars
Synopsis:
Lyra
From a distance, the Haven Institute, tucked away on a private island off the coast of Florida, looks serene and even beautiful. But up close the locked doors, military guards, and biohazard suits tell a different story. In truth, it is a clandestine research facility where thousands of replicas, or human models, are born, raised, and observed.

But when a surprise attack is launched on Haven, two of its young experimental subjects—Lyra, or 24, and the boy known only as 72—manage to escape. As they make their way through a new and menacing environment, they meet a stranger named Gemma, who has embarked on a perilous quest of her own. And as Lyra tries to understand Haven's purpose, she uncovers earth-shattering secrets that will change the lives of both girls.

Gemma

Gemma has been in and out of hospitals her whole life. A sickly child, she has grown into a lonely adolescent whose life is circumscribed by home, school, and her best friend, April.

But after she is nearly abducted by a stranger claiming to know her, Gemma starts to investigate her family's past and discovers her father's mysterious connection to the secretive Haven research facility. Hungry for answers, she travels to Florida, only to stumble upon two human models, or replicas, 24 and 72—and a completely new set of questions. As Gemma tries to unravel the mysteries of Haven, she learnes terrible truths about herself and her family that will threaten to destroy everything she loves.

Two girls, two stories, one novel.

While the stories of Gemma and Lyra mirror each other, each contains revelations critically important to the other story. Their narratives can be read separately or in alternating chapters.
01. The Diabolic by S. J. Kincaid
BOOK TITLE: The Diabolic
GENRE: YA, Sci-fi, Dystopia,
PUBLISHER:
Simon & Schuster Books for Young Readers
RELEASE: November 2016
RATINGS: 5 stars
Synopsis:
A Diabolic is ruthless. A Diabolic is powerful. A Diabolic has a single task: Kill in order to protect the person you've been created for.

Nemesis is a Diabolic, a humanoid teenager created to protect a galactic senator's daughter, Sidonia. The two have grown up side by side, but are in no way sisters. Nemesis is expected to give her life for Sidonia, and she would do so gladly. She would also take as many lives as necessary to keep Sidonia safe.

When the power-mad Emperor learns Sidonia's father is participating in a rebellion, he summons Sidonia to the Galactic court. She is to serve as a hostage. Now, there is only one way for Nemesis to protect Sidonia. She must become her. Nemesis travels to the court disguised as Sidonia—a killing machine masquerading in a world of corrupt politicians and two-faced senators' children. It's a nest of vipers with threats on every side, but Nemesis must keep her true abilities a secret or risk everything.

As the Empire begins to fracture and rebellion looms closer, Nemesis learns there is something more to her than just deadly force. She finds a humanity truer than what she encounters from most humans. Amidst all the danger, action, and intrigue, her humanity just might be the thing that saves her life—and the empire.
Have you read any of these books? Will you read any of these books? Let me know down in the comment section. Also, if you have recommendations you think should be in this list, drop em too.

Thank you for reading.

~ Stanly.